Nicaragua: "The Land of Lakes and Volcanoes"
Nicaragua is a country located in Central America and derives its name from a tribal chieftain who ruled in 1522 and the Spanish word, agua, which means "water".  It is also commonly referred to as the land of lake and volcanos. Nicaragua is home to two of the largest freshwater lakes in Central American (Lake Managua and Lake Nicaragua).
Travelers to Nicaragua are treated to a diverse geography which spans from the sea level, on the Pacific and Atlantic Oceansto an elevation of almost 7,000' (2,110 meters) at the summit of Volcán San Cristóbal.  Nicaragua has some of the most beautiful beaches in the Americas with almost one fifth of the country comprised of national parks, refuges, and more than 75 protected areas including lagoons, monuments, reserves and archipelagos.
Country Profile
Nicaragua is the 4th largest country in Central America and has its longest river. It shares its northern border with Honduras (north), Costa Rica (south), the Caribbean (east), and the Pacific Ocean (west).  The largest city in Nicaragua is Managua, which also serves as its capital.  Managua is also the third largest city in Central America.
Nicaragua has 910 km (570 mi) of coastline and 16 islands in the Pacific and Atlantic Oceans. From north to south (vertical measurement), the country measures about 472 km (293 mi) in length and about 478 km (300 mi) at its widest position.Much of Nicaragua is considered to be a biodiversity "hot spot" by environmentalist and international organizations striving to protect endangered species and rain forests throughout the world.
The head of the Ecuador Government is the President who also serves as the head of state. Nicaragua has three branches of government: Executive, Judiciary, and the Legislative (national Assembly). Politically, Nicaragua is a divided into 15 departments, or administrative subdivisions and two self-governing regions- the North Caribbean Coast and the South Caribbean Coast regions. The administrative subdivisions are further divided into 153 municipalities.  Nicaragua is a member of the United Nations, Organization of American States (OAS), and World Trade Organization (WTO), and the United Nations Framework Convention on Climate change.
Below is our country profile containing facts and information to familiarize you with Nicaragua.
Country Name: Nicaragua
Official Name: Republic of Nicaragua, República del Nicaragua (Spanish)
Nickname: Land of Lakes and Volcanoes
Formation: Recognized by Spain in 1840, and its current Constitution enacted in 2008
Historical Nicknames: none
Country Motto: "En Dios confiamos" (Spanish); "In God We Trust" (English)
Location: Central America
Government: Unitary Dominant-Party Presidential Constitutional Republic
Capital: Managua
Largest City: Managua
Select Cities: Leon, Granada, Mataglapa
Points of Interest: Volcanoes, lagoons, Bosawás Biosphere Reserve, Bluefields
Nationality: Nicaraguan
Major Religions: Roman Catholic and Protestants
Population: 6,500,000 (2019)
Life Expectancy: 70.7 years for males and 77.8 years for females
Largest Ethnic Groups: Mestizo, White, Black, Indigenous
Languages: Spanish plus 7 recognized languages including English, Miskito, Rama and Sumo
National Anthem: "Salve a ti, Nicaragua" (Spanish); "Hail to Thee Nicaragua" (English)
National Symbols: The Sacuanjoche (Flower), Madroño (tree), Guardabarranco (bird)
Area: 130,375 Km² (50,339 mi²), with 7.15% water
Average Temperature: Daily: 21°C (70°F), Annual 17.8°C (64°F)
Climate: Tropical, stable temperatures, November-January (cooler), March-May (hot), with May-October (rainy and humid)
Highest Elevation: Pico Mogotón with an elevation of 2,438 m (8,000 ft)
Longest River: Rio Cocowith a length of 780 km (485 mi)
Deepest Lake: Laguna de Apoyo 175 m (575 ft)
Largest Lake: Lake Nicaragua 8,264 km2 (3,200 mi2) which is also largest lake in Central America
Calling Code: +505
Geographic Coordinates: 2 00 S, 77 30 W
Currency: Nicaraguan Córdoba (symbol C$) which is divided into centavos (1:100)
Driving Side: Right
Time Zone: Greenwich Mean Time (UTC-6)
Internet TLD: .ni
Nicaragua Travel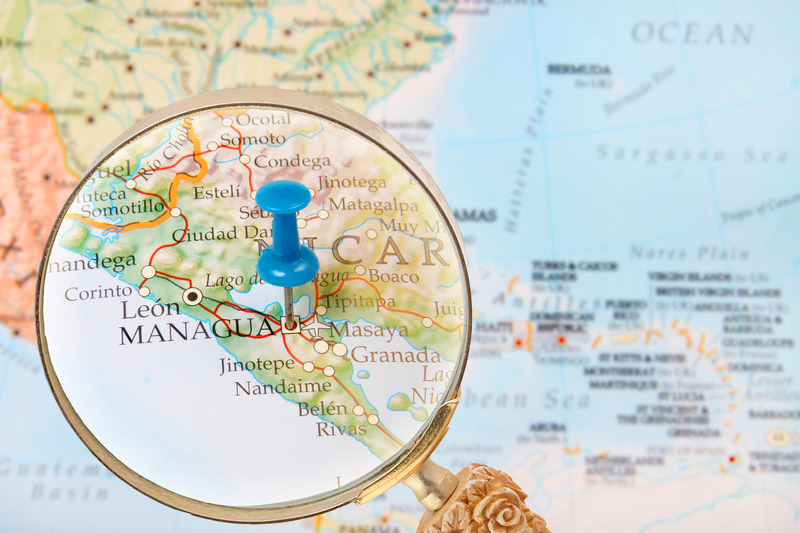 What currency is used in Nicaragua?
The official currency of Nicaragua is the Córdoba commonly represented by the symbol (NIO).
Where should I visit when travelling in Nicaragua?
Nicaragua is one of the lesser travelled tourist destinations in Central America but that does not detract from its unique character and its undiscovered and unspoiled destinations.  If you like outdoors, you may plan to visit one of Nicaragua's many nature or wildlife reserves like the one at El Jaguaror to explore one of its 40 active or extinct volcanoes such as Maderas, Concepción, and San Cristobal. Adventures and outdoors men can see seen trekking though exotic rain forests or summiting challenging mountain peaks dotting the landscape in the Pacific or Atlantic lowlands which offer stunning views. Wildlife enthusiasts should consider planning a wildlife excursion here they can marvel at sea turtles or pass the time bird watching.
For visitors preferring to explore cities and towns, Nicaragua has a variety of charming historical landmarks and national treasures spanning from coast to coast. Some of our favorite attractions include museums such as the National Museum,the Convent of San Francisco, theatres such as the Rubin Dario National Theatre of Performing Arts, and galleries such as The Ortiz Gurdián Foundation Art Center and The Claro Oscuro Art Gallery in La Calzada.
When is the best time of year to travel to Nicaragua?
There is no best time of year to travel to Nicaragua. Having three distinct geographic regions, the climate is different but temperatures are generally warm yet comfortable.  Although the topography of Nicaragua is mostly comprised of lowlands and plains, the Nicaraguan highlands have extensive rain forests, mountains, volcanic peaks and rivers.  With such a diverse landscape, temperatures in the lowlands range between 29 and 32 °C (85 and 90 °F) with annual precipitation of approximately 40-60 inches.  In the highlands, the weather is cooler and wetter with temperatures commonly in the range of 24 to 26 °C (75 to 80 °F).
What are some of the "must see" places in Nicaragua?
Visitors to Nicaragua can take guided tours or create their own customized itinerary to enhance their travel experiences.  Many travelers are attracted by numerous water sport activities such as scuba, surfing, or fishing in San Juan del Sur or El Velero. Other memorable places to see include the Cathedral of Leon, the Church of Jalteva , and the Ruins of Leon Viejo.  As well as the destinations featured in our map and area guides.
How expensive is Nicaragua?
Youth hostels and accommodations are plentiful with season prices ranging between USD$10 and USD$15 a night.  In the capital of Managua and smaller cities, hotel prices range from $15 to $50 a night with some higher rated hotels and resort accommodations priced in the USD$48 to $150 a night.  Naturally, the cost of international flights vary from your place of origins but domestic flights are reported to be very affordable. Rental cars are available and bargains abound but depend upon time of visit.  Cruises are common to Nicaragua with weekly arrivals from most foreign ports of call.
Travel budgets should reflect the cost of dining out (good meals at nice restaurants can be priced at $5 to $10 dollars each).  Guided tours can be pricy but anticipate paying between USD$25 to USD$100 a day).  Prices can also vary significantly between regions so remember budgeting for entrance fees to national parks and wildlife refuges especially those to remote areas.
Do I need a visa to visit Nicaragua?
Depending on your citizenship and country of origin, a visa and other travel documentation may be required to visit or study in Nicaragua.  For most visitors from the Americas and Europe and a visa is not required to enter Nicaragua but such stays are generally limited to 90 days. A visa is required if planning to stay longer than 90 days.  All visitors must hold a valid passport for 6 months, be able to demonstrate proof of sufficient funds, and produce documentation for their next destination.